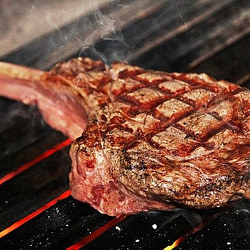 Perfect Steak Rub
Take your home cooked steaks to the next level with this delicious Steak rub. Perfect for a family BBQ to impress your friends.
Ingredients
4

Steaks

I prefer t-bone

If vegetarian portabello mushrooms or cauliflower is a great alternative.

2

tbsp

Dry steak rub
Instructions
The day before or at least 2 hours before cooking pat steak dry with some kitchen roll and cover with dry steak rub on both sides. Leave to sit overnight or for at least 2 hours before cooking. This allows the salt to soak into the meat giving you more flavour.

If using mushrooms or cauliflower, you may need to mix the rub with a teaspoon of oil to get it to stick properly.

Heat griddle pan or BBQ to medium, high heat. Add the steak and cook until your desired length of cooking. Rare will take less time than well done. Make sure the pan is hot at the start of cooking so that the seasoning seals into the steak.

If using mushrooms follow the same process but cook until soft and juicy.

Serve with a coleslaw and potato salad for a true American experience.
Keyword
bbq steak, brisket, steak