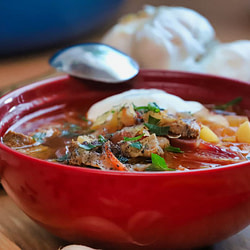 Restaurant Style Chinese Hot Pot Recipe
Bring your favourite restaurant meal home with this delicious restaurant style chinese hot pot recipe.
Course
Appetizer, Main Course
Ingredients
1

MKS hot pot mix sachet

3

tbsp

Oil

2

liters

Vegetable stock

1

Large onion diced

4

Garlic cloves minced

1

inch

ginger minced

2

tbsp

Rice vinegar

1/2

cup

Sriracha or fermented chilli paste if you have it.
Instructions
Heat oil in a large fryin gpan or wok over a medium, high heat.

Add the MKS hot pot mix sachet and fry until fragrant. Then add onion, garlic and ginger and fry until the onion starts to soften.

Squeeze in the sriracha and stir then quickly add the stock and rice vinegar and bring to a boil.

Simmer this for 45 minutes to 1 hour and enjoy the fragrant aroma.

Serve with your favourite side, such as rice or stir in some salt and pepper chicken chunks.
Keyword
Soup Recipe, Takeaway Favourites