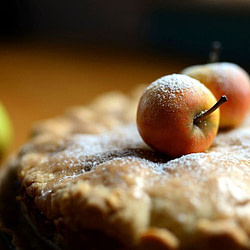 Apple pie
A sweet treat from the States. This Apple pie is a sure way to get your family about Sunday dinner.
Ingredients
4

Medium cooking apples

2

tbsp

Butter

2

tsp

Apple pie blend

2

tbsp

Sugar

1

Whisked egg

1

Square of shortcrust pastry big enough to cover your vessel.
Instructions
Preheat oven to 220 degrees celcius.

Peel, core and slice the apples.

In a large bowl mix together apples, butter, apple pie spice blend and sugar.

Lightly grease baking tin, butter works best. Fill the tin with the apple filling and level out flat.

Roll shortcrust pastry on top of the pie tin and crimp the edges so it looks all fancy and keeps the heat in.

Egg wash the top of the pastry and cut too deep holes in the crust so that steam can escape.

Place pie in center of a pre heated oven and cook at 220 for 10- 15 minutes then reduce the temperature to 180.

Cook at 180 for 25- 30 minutes until the pastry crust is golden brown.

Take out of the oven and leave to cool for 15-20 minutes.

Serve with your favourite dessert side, ice cream, custard, cream.
Keyword
Apple Pie, Cakes, Pie, sweet dessert