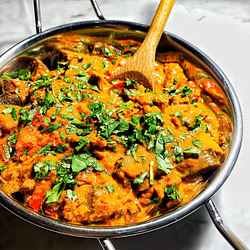 Basic Vindaloo Recipe
One of the UKs most popular spicy curries. Perfect for the weekly curry night with your friends.
Ingredients
2

tbsp

Ghee or vegetable oil

1

large

Onion diced

2

cloves

Garlic minced

1

inch

Ginger minced

2

tbsp

MKS Vindaloo mix

2

Green chillies

Optional if you want it less spicy or use hotter chillies to increase heat.

400

g

Chopped tomatoes

1

Green pepper sliced

2

tsp

Vinegar

2

tsp

Lemon juice

handful

Fresh coriander chopped
Instructions
Heat 2tbsp of ghee or vegetable oil over a medium heat in a large frying pan. Add the onion and saute until soft and translucent. Add the garlic, ginger, green chillies and MKS Vindaloo spices and cook for a further minute.

Add pepper cook for a few minutes and then add the chopped tomatoes, vinegar and lemon juice.

Cook the mixtures until the sauce is a thick consistency and add the freshly chopped coriander.

You can modify this dish by adding any meat you like. Try marinading the chicken with tandoori spices and grill. Then stir in along with the chopped tomatoes.